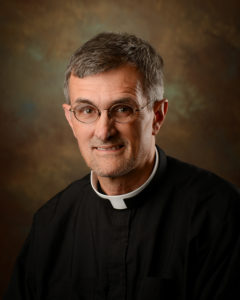 Father Lincoln's Reflections
Today, on the 5th Sunday in Ordinary Time, a few weeks before we start Lent, we hear a part of the Sermon on the Mount in the Gospel, as Jesus describes what we should strive toward in our life of discipleship: we are to be the salt of the earth and the light of the world. As Disciples of Christ, we are to bring flavor and light to the world around us. Jesus calls us to be a light in the darkness of our world. He calls us to change the flavor of our world, to bring a perspective of faith no matter where we are in our lives.
This Sunday, February 5, we mark the anniversary of the death of Father Pedro Arrupe, who had been the Superior General of the Jesuits for many years, from 1965 to 1983. He is considered the "second founder" of the Jesuits based on the huge impact he had on that religious order. This is a quote of his that really touched me: "In life, have but one desire, only one — to love Jesus Christ with all your soul. Let that be the one fixed idea of your entire existence." In respect to today's Gospel, I see that we can be a true light in the world only if we have a personal relationship with Jesus and only if our lives are centered in him. Then, and only then, can we pass the light on to others.
We will hear the Bishop's audio message for the Catholic Service Appeal today. Through our contribution to the Catholic Service Appeal, we can be a light in the world. Have a blessed week everyone.
Father Lincoln.