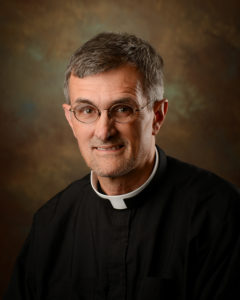 Father Lincoln's Reflections
Most of you know that I love the traditions of the Church. I love celebrating the community of saints in different ways. The liturgies we celebrate this week say so much about our faith. Tuesday was the feast day of St John Chrysostom, the Archbishop of Constantinople in present-day Turkey in the 4th Century, an important center of Christianity in the Early Church. Wednesday was the feast of the exaltation of the Holy Cross, commemorating the recovery of the actual physical cross of Jesus by St Helena, the mother of the Roman emperor Constantine, in the 4th Century. On Thursday, we commemorated Our Lady of Sorrows, a major feast day of the Blessed Mother. Finally, on Friday, we commemorated St Cyprian, the Bishop of Carthage in North Africa in the 3rd century, and St Cornelius, who was pope during that same era. Both Cornelius and Cyprian died martyrs of the faith.
Finally, this weekend, we start our classes of religious education and we celebrate Catechetical Sunday in our Church, giving a blessing to our catechists and teachers of religious education. In recent years, we see many people trying to tear down statues and erase history, judging the historical figures of the past through our current lens. Yet, like anything in life, reality is often more complicated that what we want to see and what we understand. We have to recognize both the good and the bad of our history in order for us to make sense of our current reality. The saints were human in their strengths and weaknesses, in their joys and struggles, in the way they followed God in their lives and in the way they sometimes missed the mark. We can learn from the saints and from our history. We can unite our prayers with the prayers of the saints, asking the saints to help us, lead us, and guide us. I give thanks for our wonderful staff here at Holy Savior and for all our catechists, religious education teachers, and volunteers. So many people work very hard for our parish. Blessings to all of you. Have a blessed week. Father Lincoln.
Last Sunday, Jesus reminded us in the Gospel that we are to take up our crosses and follow him. Jesus demands a total commitment from us on the road of discipleship, which will certainly include sacrifices and challenges. Today, we hear Jesus tell us the parables of the lost sheep and the lost coin, emphasizing the way that Jesus came to save the sinner and the lost, to rejoice when the lost soul repents and comes back to the fold. Paul describes how he once embraced blasphemy, persecution, and arrogance on his journey of faith, but that through God's grace and mercy, he experienced a profound conversion in his life that brought him to Christ. We can be lost in many different ways on our journey, but God always offers us his love, grace, mercy, and forgiveness.
As we pass Labor Day, which is traditionally seen as the end of summer, we start our new school year of religious education. Having taught religious education myself as a layperson before I became a priest, and having come through the RCIA program as an adult to the Catholic faith, I have experienced the importance of religious education first-hand in my own life of faith. All of us are called to be lifelong learners in the faith. We have changed the Mass time at Immaculate Conception in Raymond to 8:00 am in order to better accommodate our program of religious education. Next weekend we will celebrate Catechetical Sunday as we recognize the importance of formation on our journey of faith and recognize our catechists and teachers of religious education. Blessings to all of you – Father Lincoln.
As most of you know, I am a part of a program with the Mathis Liturgical Leadership Program at the University of Notre Dame, a two-year program that just started its first cohort this summer. I went to the Notre Dame campus in July for the orientation and our on-line classes start in couple of weeks. As we are celebrating the centrality of the Eucharist in a special way throughout our Diocese and throughout the universal Church these next couple of years, including a Eucharistic congress, the theme of this leadership program of developing a stronger eucharistic culture in our parishes and our Catholic institutions is hopefully going to influence me a great deal as pastor of Holy Savior and Immaculate Conception and as Vicar General of the Diocese. In our Gospel today, Jesus talks to us about making a total commitment to our faith, about carrying our crosses as we follow Jesus as his disciples. For us Catholics, the Eucharist, the Mass, and our prayer life are called to have a central role in this total commitment we give to Jesus and to our faith. We cannot over-emphasize the importance of the Eucharist in our life of faith as Catholics.
I want to remind all of you that this Wednesday, September 7, we are having Adoration of the Blessed Sacrament at Holy Savior at 6:00 pm in the church, which will conclude with Benediction just before 7:00 pm. I will be available for confessions during this time as well. We are offering adoration one evening a month right now. We invite you to spend time with Jesus in the Blessed Sacrament with our faith community during this time. Also, we will have Labor Day Mass this Monday at 8:30 am when we will pray a special prayer for workers during that Mass. Blessings to all of you this Labor Day weekend. Father Lincoln.
As I write this bulletin reflection, I am wrapping up my trip to California.  I had wonderful experiences at the mission appeals at two parishes in the Archdiocese of Los Angeles: Our Lady of Peace in North Hills in the San Fernando Valley and Mission San Gabriel, which is the original mission in the Los Angeles area established in 1771 founded by St Junipero Serra.  Each of these parishes had seven Masses during  the  weekend.   Each  of  those  parishes  had  Masses  celebrated  in  English,  Spanish,  and Vietnamese.  
As I hiked the California mission trail in Los Angeles, Orange, and San Diego counties during my visit to California, I visited several missions along the way, being immersed into the very diverse multi-cultural reality that makes up Southern California.  Part of the mission appeal is about raising money for our Diocese to fund grants to our parishes and schools, but also a big part of the mission appeal is about relationship, sharing stories about our Diocese, and conversing about missionary spirit that is such an important part of our identity as Disciples of Christ. Here at Holy Savior and Immaculate Conception, we look forward to the start of our religious education program.
In the Gospel today, we hear of Jesus' interaction with the people of Ancient Israel, which always happens in the midst of their lived reality.  May we never forget how Jesus meets us in the midst of our own reality?  I look forward to seeing all of you at Masses this weekend after having been away these past couple of weeks. Blessings – Father Lincoln.
What do we have to do to truly be a disciple of Jesus? Who will be chosen to enter into God's eternal kingdom? In essence, that is what Jesus is asked when someone questions him as he's teaching in the towns and villages on his way to Jerusalem: "Jesus, will only a few people be saved? Will I be among them?" In Jesus's response to this question posed to him by the crowds, perhaps he is telling us that it is entirely another question that we need to be asking instead. Perhaps the question we should be asking pertains to how we can grow in our relationship with Jesus and grow on our journey of faith,
I had a good mission appeal at Mission San Gabriel just east of the city of Los Angeles last weekend. We had seven Masses on Saturday and Sunday last weekend, so I was quite busy, with Masses in Vietnamese, Spanish, and English. I have seven Masses coming up this weekend at Our Lady of Peace located in the San Fernando area of Los Angeles. I enjoy representing our Diocese at these parishes and to tell our stories.
I have been hiking the California mission trail during my time here in Southern California. Today, as I write this, I was down in the Oceanside area hiking along the coast, which was just beautiful.  Oceanside is home to Mission San Luis Rey. I am hoping to visit Mission San Juan Capistrano in Orange County this week as well. Most of you know how much I love hiking and love going on pilgrimage, so I am very much enjoying this experience.
I look forward to coming back to Clinton. Blessings to all of you. I will see you next weekend.
Father Lincoln.
For the last several weeks at Sunday Mass, we have been hearing from the 12th chapter of Luke's Gospel.  In that chapter, Jesus is attracting huge crowds who are very interested in what he has to say. Some of the people in the crowds are his disciples.  They take his teachings to heart and want to learn from him. However, there are others such as the scribes, temple officials, and Pharisees who are also interested in what he says, but they want to use his teachings to criticize him and make life difficult for him.   
     Sometimes we need to directly confront the reality around us in order to eventually solve any problems or tensions that exist.  That is what Jesus is talking about when he says that he has come to create division, even to the point of creating situations where households are divided.  Perhaps we can identify with this with what we have gone through during the pandemic, of a harsh social reality and division that we have had to face, rather than ignore.  
       I remember in the spring of 1992, I was living in the Los Angeles area working for an accounting firm.  I had a meeting that morning in downtown Los Angeles for an audit I had just completed.  As I was driving back home to Orange County that afternoon, I heard on the radio that the trial verdict for the Rodney King case had been delivered.  Then came the reports of spreading crime, violence, and rioting.  For the next several days, much of the Los Angeles area was being torn apart by riots, with the heart of the activity being the area where I had been working the last several weeks in downtown Los Angeles.  Hard work, reconciliation, healing, and trust are needed to address a lot of these deep problems and divisions we face in society, even thirty years after these riots.  
    Blessings to all of you.  This weekend I will be celebrating Masses at Mission San Gabriel, the original mission in the Los Angeles area that was founded by St Junipero Serra in 1771.  I will keep all of you in my prayers as I celebrate the Masses there. Father Lincoln.  
Our Gospel today tells us the need for us to be prepared on our journey of faith. We are called to be ready for when Jesus comes again, since we do not know the hour or the day. Even with something as simple as writing homilies, for which I am usually writing six to eight homilies a week, I need to stay prepared and organized, or I will get behind and it will be hard to catch up. It is Monday morning as I write this and thankfully, I have written all my homilies for the week.
Speaking of getting ready and being prepared, I am getting ready for a trip to California, which will take me away from Mississippi from August 9 to August 24. This time of the year, I usually go out of the Diocese for several weekends to do mission appeals, where I celebrate Masses at different parishes throughout the country and to tell our missionary story of the Diocese of Jackson. These parishes in turn take up a second collection for our Diocese that helps our mission parishes and schools. For the next two weekends, I will be celebrating Masses at San  Gabriel Mission, one of the original California missions founded by Father Junipero Serra in 1771, and Our Lady of Peace, located in the San Fernando Valley area of Los Angeles. Reflecting the reality of our Catholic faith here in the United States, both of those parishes have seven Masses each weekend, with more Masses offered in languages other than English, including Vietnamese, Tagalog, and Spanish. I will be able to handle the Spanish and the English without a problem, but they are going to translate my homilies into Tagalog and Vietnamese for the Masses in those languages.
I will miss being with all of you for the weeks I am going to be away, but I am looking forward to visiting some family and friends in California and looking forward to spending some time hiking. Blessings to all of you. Father Lincoln.
Back in the spring of 2017, when I found out I was going to move to St Jude parish in Pearl, the Bishop asked me if I wanted to take some additional time off, since I had been a priest for nine years at that point and with all that was going on in my life as a priest, I had not had a lot of vacation time and down time.  I told him I wanted to reflect upon that, to use that time in a good way.  I decided to go on a 30-day retreat on the spiritual exercises of St Ignatius of Loyola on the site of his family's castle in the Basque Country in northern Spain, which I ended up doing in July 2019.  What an amazing, intense experience those spiritual exercises turned out to be!  Based upon his own time of discernment in the early 16th century when he left behind his life as a medieval knight and solider to become a priest, the spiritual exercises of St Ignatius are a time of intense prayer and silence that include a daily meeting with a spiritual director.  Except for that daily meeting, there was no talking at all, just prayer, Mass, and silence. I remember telling a friend about that experience, saying that it was like going deep inside myself and baring my soul each day. I give thanks that Bishop Kopacz gave me the opportunity to have that experience.  
     This Sunday, July 31, as we celebrate the feast day of St Ignatius of Loyola, we will pray two of his well-know prayers at Mass.  The Suscipe is a traditional form of Catholic prayer which comes from the Latin word "receive".  Those of you who have been connected with Catholic schools founded by the Sisters of Mercy will be familiar with the suscipe prayer written by that order's founders Sister Catherine McAuley.  We will pray the suscipe of St Ignatius. Also, even though it appears that St Ignatius did not write the Anima Christi prayer, it is a prayer included in the beginning of his spiritual exercises and it is very closely associated with him.  Blessings to all of you. I am so glad to be with all of you as your pastor here at Holy Savior Clinton and Immaculate Conception Raymond.  Father Lincoln.  
In our Gospel reading this weekend, Jesus teaches his disciples how to pray, but he also states that if we ask, we shall receive, and if we knock, the door will be opened for us. Our faith is always to go beyond our prayers in putting that faith into action.
It is hard to believe that our summer is coming to a close with our students and youth headed to school very soon. We will commence our school year in August with a blessing of the backpacks in August, of which more information will be forthcoming. We look forward to a new year of religious education for our children, youth, and adults.
Speaking of putting faith into action, we are looking for volunteers who would like to join our prison ministry at Central Mississippi Correctional Facility. We are looking for women who would like to help with the women's ministry and men for the men's prison ministry. We currently have a small group of volunteers who have been going out there for a year, but as that group is aging and having more time constraints, we are in need for more volunteers. Currently, we have been going out during the week on an afternoon for the men and women in the general prison population and ministering to the prisoners who are trustee there on Saturday mornings. There will be an orientation by the state prison system prior to starting as a volunteer. Please contact Father Lincoln if you are interested. Have a blessed week everyone. Father Lincoln.
I am writing this bulletin message from the campus of the University of Notre Dame, where I have been all week at the orientation for a liturgical leadership program that will last two years. There are 21 of us from around the country in this program, including Catholic school teachers, directors of liturgy, directors of religious education, priests, musicians, missionaries, and even a diocesan director of development. The theme of this program is promoting a Eucharistic culture in our parishes, our Dioceses, and our Catholic schools. In this program, we each will be tasked to develop a project that we will promote for the long term. At this point, I am hoping to use different Catholic devotions, prayers, and traditions to promote a Eucharistic culture here at Holy Savior, and then hopefully other places throughout our Diocese. I am excited about the possibilities for us a parish. I feel very blessed to be a part of this program and for the opportunity to develop such a project with my studies at Notre Dame these next two years. I missed being with all of you for daily Mass this week, but am glad to be with all of you this weekend and for the daily Masses in the upcoming week.
As we have two men from Holy Savior in the first year of the diaconate formation program, Chris Halliwell and Hunter Yentzen, we as a Diocese celebrate six men this weekend who are being ordained to the Diaconate. They are from the parishes of St. Michael in Vicksburg, St. Michael in Forest, St. Jude in Pearl, the Cathedral of St. Peter in Jackson, and St. Paul in Flowood. We pray for these men and their families as they are ordained for the ministry in our Diocese. We also pray for Hunter and Chris who are at the beginning of their diaconate formation.  Father Lincoln – Pastor
I really enjoyed celebrating the Masses with all of you this past weekend.  I was very happy to meet a lot of you at the Masses and to reconnect with some of you with whom I have had connections in the past.  This upcoming week, July 11-15, I will be out of town attending the orientation of a liturgy leadership program at the University of Notre Dame in South Bend, Indiana.  This will be a two year program that will include a few visits to the Notre Dame campus and some work in the virtual world.  The theme of this program will be forming a Eucharistic culture in our Church by collaborating together as a community of faith.  This ties into the Eucharistic renewal which our US Bishops are undertaking, which will culminate in a national Eucharistic Congress in 2024.  As always, what we believe about the Eucharist as being the real presence of Christ should affect our words and our actions, which is connected to our Gospel message of the Good Samaritan this Sunday, about who we see as our neighbor.  Father Lincoln – Pastor